「このボタンを押すと、おつりがでます」
と
「このボタンを押したら、おつりがでます。」
この「と」と「たら」の違いがわかりますか。
実は、文法上、どちらも間違いではありません。
でも、ニュアンスが微妙に違います。
「と」の使い方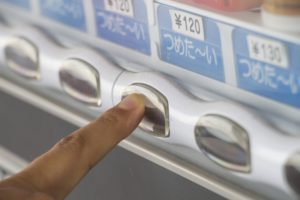 ↓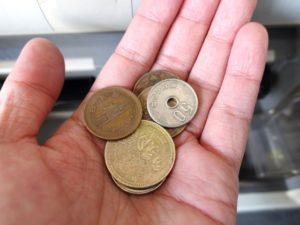 「このボタンを押すと、おつりがでます」
前の文章(=このボタンを押す)と後ろの文章(=おつりがでます)
に分けて考えましょう。
前の文章の結果として、後ろの文章が起こる。
"このボタンを押す" causes "おつりがでます"
この関係が成り立ちます。
「たら」の使い方
「このボタンを押したら、おつりがでます。」
たら is like [IF] in English.
If you do that このボタンを押す, then the change would be out.=おつりがでます。
So, this sentence focus on the action of 前の文章(このボタンを押す).
例文
「〜と」
このボタンを押すと、おつりが出ます。
この角を曲がると、スーパーがあります。
このつまみを回すと、音量が変わります。
「〜たら」
大学を出たら、働きます。
大学を出たら、働きたいです。
これを食べたら、下痢になります。
まとめ
「〜と」has a logic, I think.
この角を曲がると、スーパーがあります。
This is talking about the map.
This is the truth. It's a fact.
So, You should use と in this case.
「〜たら」is used when the 後ろの文章 is uncertain.
大学を出たら、働きます。
Nobody knows about the future.
Yes, you have a plan to work after graduation.
But It may not to happen. It has still the part of uncertain things.
That's why you can't say "大学出ると、働きます。" or "大学を出ると、働きたいです".
どうですか。
たくさん、例文を読んで、違いを明確にしてくださいね!